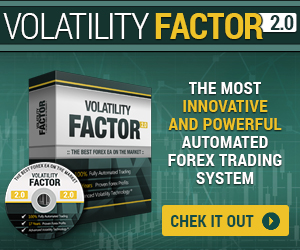 WHAT IS NEW IN VOLATILITY FACTOR 2.0 PRO
New effective dynamic-trading logic
Unique broker-spy module
Advanced time management system
Increased-prifitability
High-impact - news filter
Increased trading frequency
Reduced-risk
Improved profit- protection system
4 currency pairs supported
We've kept the best trading logic from the proven, core trading principles of forex advisor Volatility Factor EA but the improvements we've made enhances the system's profitability to a whole new level.
Just to compare the performance of Volatility Factor 2.0 PRO with the Volatility Factor, let's look at the simulated performance of both for the same period of time:
Volatility Factor +62,000 pips
Volatility Factor 2.0 PRO +107,000 pips
We've implemented our sensational "Broker Spy Module" – it is a game-changing tool and traders from all over the world just love it.
We spent over 2000 hours in developing and refining this powerful tool with one primary goal – to protect your capital and you from unethical brokers: cheating you with high negative slippage, high spreads or delayed order execution.
Now you will be able to monitor every minute whether your broker is stealing from you.
Our "Broker Spy Module" have already saved hundreds of traders to be literally robed.
For around the clock forex advisors work
we recommend use
VPS